Boise Road Trip 2021: We left off in Kooskia, ID where I had some great tropo catches. Check out my post here:
https://forums.wtfda.org/forum/wtfda...10-august-2021
Continuing along US-12 from Kooskia, about an hour and a half later, we have reached the summit of Lolo Pass, on the boundary of Idaho and Montana, Pacific and Mountain Time Zones. Elevation here is 5,279 feet, about 550 feet higher than I-90 at Lookout Pass, which I've done two bandscans at previously.
Compared to Lookout, Lolo is closer to Missoula and further from the Washington state line, and further from Spokane. This position makes both Spokane and Tri Cities logs all the more juicy. I started this bandscan off just casually scanning through the frequencies, until I see "VCY America" radiotext displayed on 90.1. I thought it was some religious in Montana (anyone who has been to Montana knows that religious stations are everywhere across the state), but I look closer at my screen and I see "KOLU" displayed. I check to see if it's an RDS error, and it turns out I was actually receiving KOLU. Then I remembered that KOLU does air VCY programming around this time of day. Long story short, it turned out not to be the only Tri Cities station received. A few more came in during my visit.
That's all for the background story - stay tuned to this forum for more! Buckle up as we enter unfamiliar territory for DXers. The next featured bandscan is on the Continental Divide and has both tropo
and
meteor scatter.
I have yet to release the Lolo Pass bandscan video to the public, but I've decided to un-list it for you guys to check it out at any time instead of tomorrow when it's released.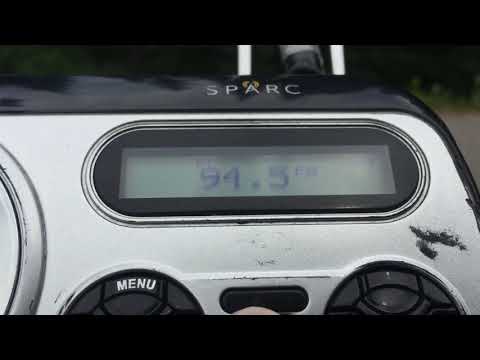 QTH - Lolo Pass, MT DN26rp
Date - 10 August 2021
Time - Around 1200-1300 MT (1100-1200 PT)
* 88.3 KJCG Missoula, MT (50 km / 31 mi)
* 89.1 KUFM Missoula, MT (63 km / 39 mi)
* 90.1 KOLU Pasco, WA (357 km / 222 mi)
* 90.3 KJFT Arlee, MT (60 km / 37 mi)
* 90.7 KMZO Hamilton, MT (52 km / 32 mi)
* 91.1 KMZL Missoula, MT (50 km / 31 mi)
* 91.5 KPLG Plains, MT (85 km / 53 mi)
* 92.3 KKMT Ronan, MT (129 km / 80 mi)
* 92.5 KZHR Dayton, WA (286 km / 178 mi)
* 92.5 KAAR Butte, MT (178 km / 111 mi)
* 92.7 KORT Grangeville, ID (147 km / 91 mi)
* 93.3 KGGL Missoula, MT (63 km / 39 mi)
* 93.7 K229BU Missoula, MT (61 km / 38 mi)
* 93.9 K230BC Ronan, MT (129 km / 80 mi)
* 94.3 K232CI Missoula, MT (50 km / 31 mi)
* 94.5 KHTQ Hayden, ID (213 km / 132 mi)
* 94.9 KYSS Missoula, MT (63 km / 39 mi)
* 95.3 K237DZ Missoula, MT (50 km / 31 mi)
* 95.9 K240AP Grangeville, ID (94 km / 58 mi)
* 96.3 KBAZ Hamilton, MT (50 km / 31 mi)
* 97.1 KALS Kalispell, MT (154 km / 96 mi)
* 97.5 KYMI Charlo, MT (61 km / 38 mi)
* 97.9 KDXT Lolo, MT (48 km / 30 mi)
* 98.3 KEYW Pasco, WA (357 km / 222 mi)
* 98.3 K252FP Missoula, MT (50 km / 31 mi)
* 98.5 KBBZ Kalispell, MT (209 km / 130 mi)
* 98.7 KHKM Hamilton, MT (48 km / 30 mi)
* 99.3 KQEZ St. Regis, MT (45 km / 28 mi)
* 99.7 KQRK Pablo, MT (129 km / 80 mi)
* 99.7 K259DD East Missoula, MT (50 km / 31 mi)
* 100.1 KZOQ Missoula, MT (50 km / 31 mi)
* 100.7 KIBG Bigfork, MT (129 km / 80 mi)
* 101.5 KAMM Frenchtown, MT (50 km / 31 mi)
* 102.5 KMSO Missoula, MT (50 km / 31 mi)
* 102.9 K275BS Missoula, MT (50 km / 31 mi)
* 103.3 KDTR Florence, MT (50 km / 31 mi)
* 103.7 K279CP Missoula, MT (50 km / 31 mi)
* 104.1 K281CH Missoula, MT (50 km / 31 mi)
* 104.5 KKVU Stevensville, MT (50 km / 31 mi) *HD*
* 105.1 KWOL Whitefish, MT (209 km / 130 mi)
* 105.3 KONA Kennewick, WA (359 km / 223 mi)
* 105.7 KZBD Spokane, WA (231 km / 144 mi)
* 105.9 KYJK Missoula, MT (50 km / 31 mi)
* 106.3 KDBI Homedale, ID (394 km / 245 mi)
* 106.5 KEGX Richland, WA (354 km / 220 mi)
* 106.7 KXDR Pinesdale, MT (50 km / 31 mi)
* 106.9 KMOK Lewiston, ID (189 km / 117 mi)
* 107.1 K296FM Missoula, MT (50 km / 31 mi)
* 107.5 KENR Superior, MT (45 km / 28 mi)
* 107.9 KHDV Darby, MT (52 km / 32 mi)